Germ-free, cool moisture for temporary relief of dry air discomforts
Availability: Back Ordered
Estimated In Stock date is 6/16/2020.
Regular:

$115.95
Price: $69.95
You Save: $46.00 (40% Off)
View More Info
4.9
score based on 101 reviews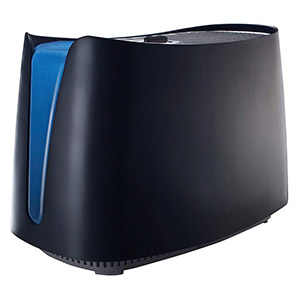 The Honeywell UV Cool Moisture Germ Free Humidifier is efficient in establishing a clean breathing environment. Self-Regulating Evaporative Technology has made this unit capable of eliminating up to 99% of bacteria, mold and various other harmful allergens in the water. 25% quieter than rivaling humidifiers, this model releases cool, filtered invisible moisture into the air. Incredibly versatile by design, this Honeywell UV Cool Moisture Germ Free Humidifier comes with 3 speed settings that will allow owners to adjust moisture output and sound levels. The inclusion of a Break Resistant water tank simplifies the filling and cleaning process. The Honeywell UV Moisture Germ Free Humidifier is an ideal fit for medium sized rooms and is capable of running up to 24 uninterrupted hours per filling.