NIOSH approved DF300 Series Flatfold Disposable Respirators are made with a multilayered absorption media that repels moisture and features a smooth inner lining for added comfort. Honeywell NIOSH-Approved N95 respirator face masks provide protection against airborne particulates with a 95% filter efficiency against solid and liquid particulates in the air (excluding oils). Each package includes (twenty) disposable N95 respirators.
Standards : NIOSH Approved
Filtration Type : N95
Mask Type : Flatfold Molded Cup
Latex Free : Yes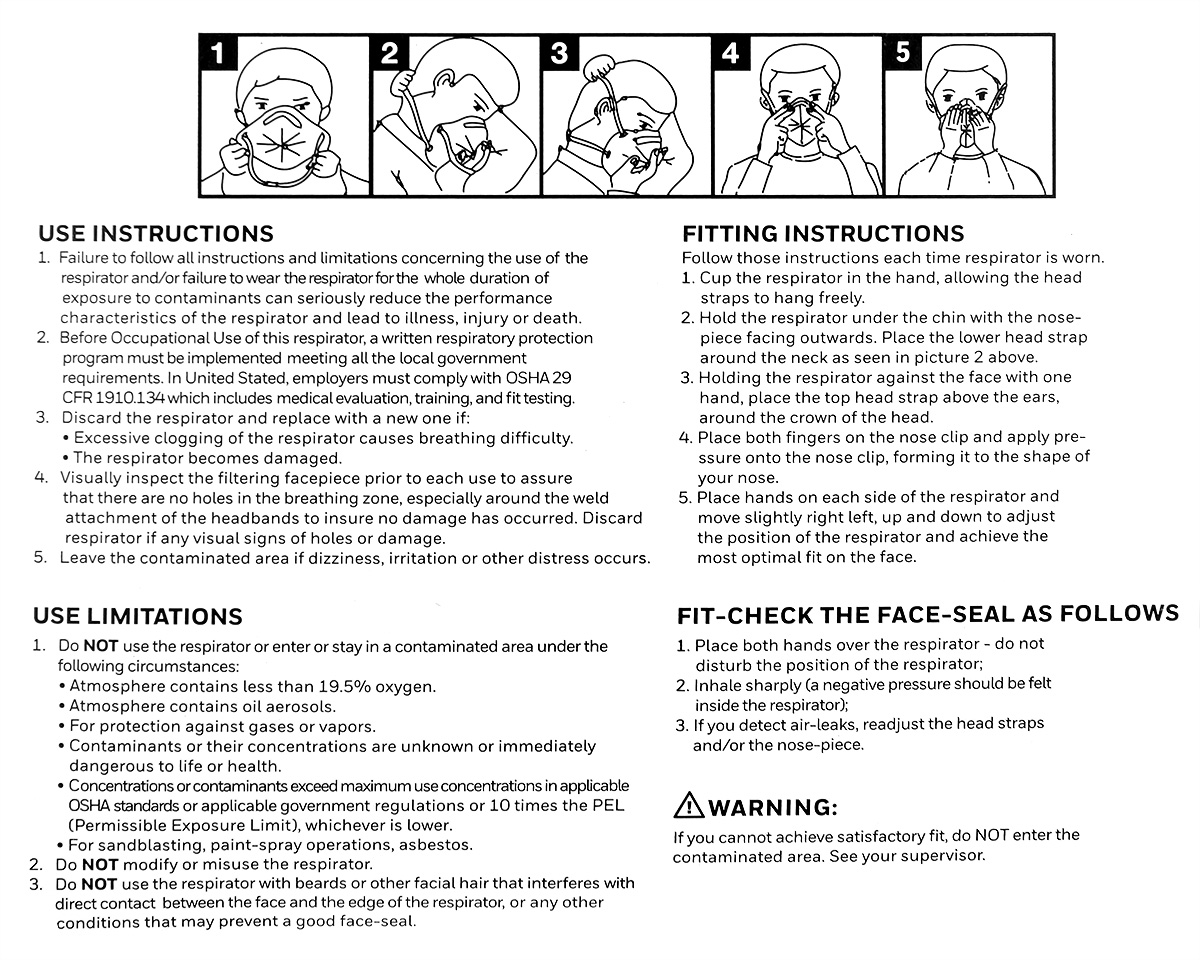 N: This is a Respirator Rating Letter Class. It stands for "Non-Oil" meaning that if no oil-based particulates are present, then you can use the mask in the work environment. Other masks ratings are R (resistant to oil for 8 hours) and P (oil proof).
95: Masks ending in a 95, have a 95 percent efficiency. Masks ending in a 99 have a 99 percent efficiency. Masks ending in 100 are 99.97 percent efficient and that is the same as a HEPA quality filter.
.3 microns: The masks filter out contaminants like dusts, mists and fumes. The minimum size of .3 microns of particulates and large droplets won't pass through the barrier, according to the Centers for Disease Control and Prevention (CDC.)
Material: The filtration material on the mask is an electrostatic non-woven polypropylene fiber.
Valve: Some disposable N95 masks come with an optional exhalation valve. "The presence of an exhalation valve reduces exhalation resistance, which makes it easier to breathe (exhale,)" according to the CDC.
If you are interested in ordering a large quantity of items you may qualify for volume pricing discounts. Volume Discount Pricing is a great way for customers to save big on large, bulk orders of most items available in our store. Please
send a bulk order request
to our friendly sales staff so they may create a quote and provide personal service for your order! You will receive a response within 1-2 business days and our office hours are Monday through Friday, 8am-5pm CST.
We make it as easy as possible to ensure you get the lowest prices available:
Let us know what products & the quantities you are interested in.
Get a detailed quote from a dedicated sales rep.
Our warehouse ships directly to you.
You enjoy the savings & are now a preferred customer.
Send A Request Now